The client wanted the widest

possible rear wheel…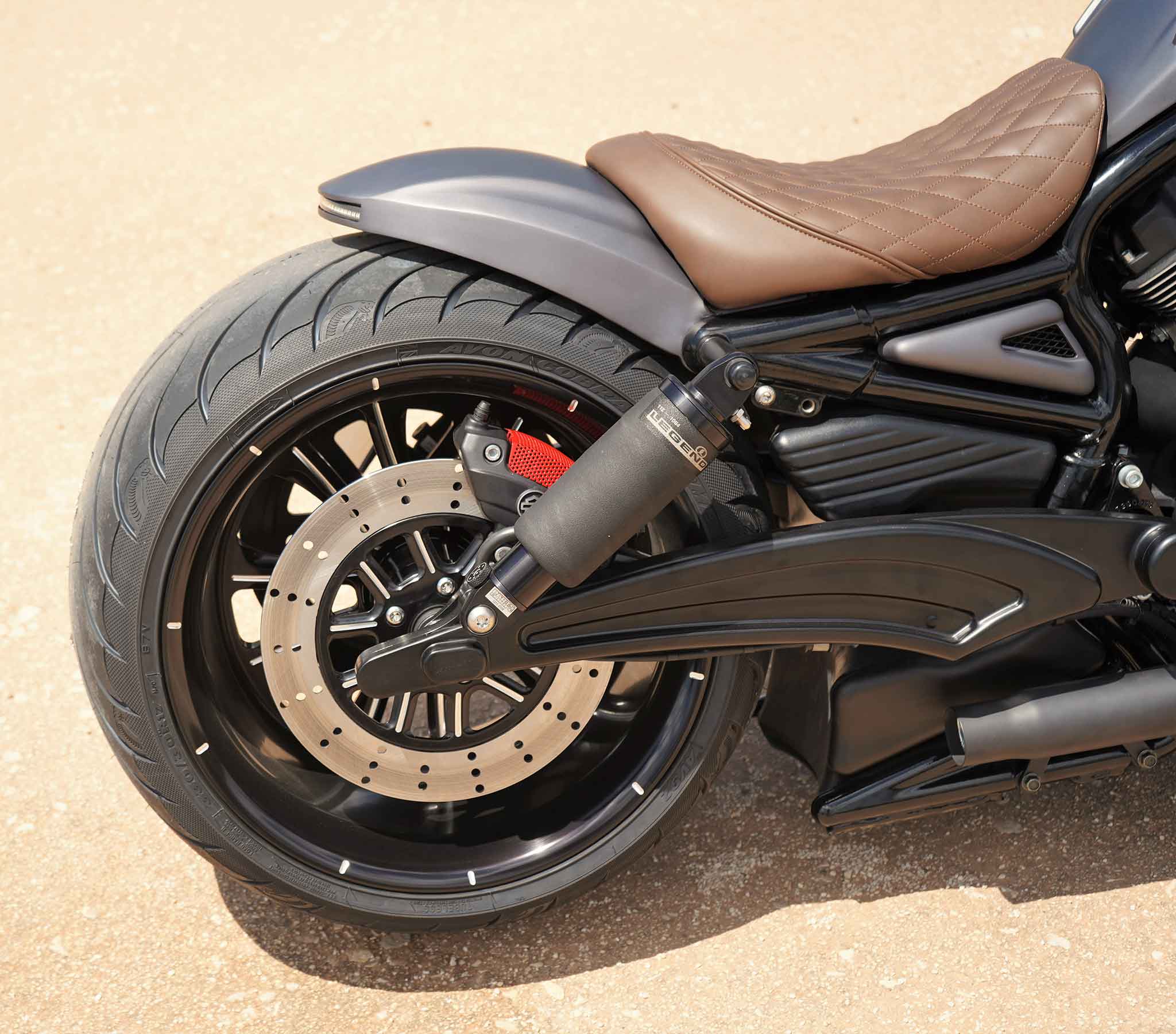 These rims for custom motorcycles are from the North American brand RC Components and the respective brake discs and pulley matching the rims have also been installed.
A pneumatic air suspension has been installed for Harley Davidson from the prestigious Legend Suspensions brand that we have obtained through our motorcycle customization workshop in Miami.
The base used was a 2014 Harley Davidson Nightrod Special. The client wanted the widest possible rear wheel, which in this case would be a 360 wheel for Vrod; but since this customized Harley had to circulate in Spain, it was going to be necessary to homologate and for this reason a wheel with a tire of only 330 for Harley had to be installed; since it is the maximum homologable in this country.
The owner of Lord Drake Kustoms (Francisco Alí Manén) decided that parts such as the rear fender, front fender, license plate bracket, other body parts or the seat itself or exhausts; They had to be handcrafted exclusively in our motorcycle transformation workshop in Spain.
Vrod 330 handcrafted seat
Vrod 330 handcrafted exhausts
A swingarm, Biltwell tracker handlebars, Motogadget turn signals, Roland Sand Design turrets, grips, footrests, LED tail light with built-in motorcycle turn signals and many other parts and accessories that have been installed on this custom bike have been purchased at the online store CUSTOMIZA TU MOTO
The entire bodywork has been painted in matt graphite gray with 4 or 5 details in red, and the rest of the parts are powder-coated with electrostatic paint baked in the company METALCOLORS
And finally we have carried out (with our own service) the homologation of all the reforms carried out on a transformed Harley Davidson motorcycle that will surely attract the attention of all those who see it on the street… especially when they see its impressive rear wheel of 330!