For some time this DUCATI 848 BLACK BEAUTY is the other passion of Paco Ventura guitarist of the rock band Medina Azahara, that after the restyling that we have done in Lord Drake Kustoms has been beautiful and brutal.
A MOTORCYCLE FOR MEDINA AZAHARA
Paco Ventura (guitarist and composer) besides being passionate about the guitar, has another great passion and are custom motorcycles, exclusive or simply original; so when he is not touring with his band (the legendary Andalusian rock band Medina Azahara) usually enjoys riding one of his bikes among which were a white Ducati 848.
The story is somewhat curious because Paco Ventura knows Lord Drake Kustoms through the networks and begins to follow us because he becomes an admirer of our work with cafe racer motorcycles, scramber, bobber, etc.; But what the famous guitarist did not know is that Francisco Ali Manen (owner of Lord Drake Kustoms) is an unconditional fan of Medina Azahara and especially of the guitarist from Cordoba for decades.
The rest you can imagine… One day Paco Ventura makes some comments on some posts in our networks, Fran Manen answers him and invites him to know our motorcycle workshop in Malaga and the thing continues to evolve until one day he contacts us privately to tell us that he would like to give a new look to his road bike.
Fran Manen is amazed to have the opportunity to work on or customize the bike of one of his main rock idols for years. They meet in Cordoba, he picks up his bike and the rest is a beautiful story that has resulted in the restyling of a Ducati 848 which we have named "Black Beauty" (Paco Ventura's idea).
The idea was to keep the Racing aesthetics of the bike but to embellish it especially with a paint and upholstery work. So we proceeded to completely disassemble the bike piece by piece to be restored, treated or painted after being mechanically tuned or replaced.
Matte black, gray and candy red
Upholstered with red thread stitching
From the chassis to the engine, rims and of course all the fairings… Matte black with matte graphite gray, candy red details, front suspension bottles anodized in red, etc, etc… and seats upholstered in micro perforated leather with red thread stitching.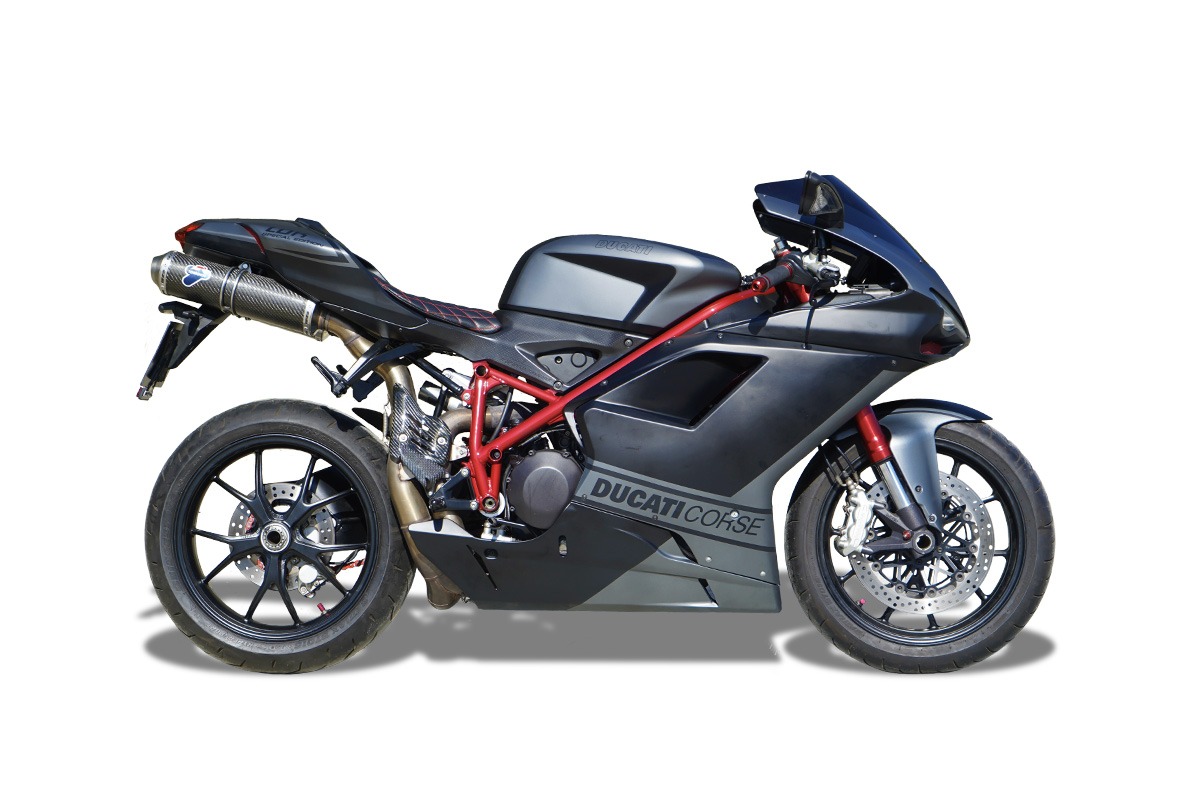 As we always say in Lord Drake Kustoms… "Less is More" and sometimes to give a new life to a custom bike you just need to change the dress and give it a new color, as is the case of this DUCATI 848 BLACK BEAUTY, which now rolls on the roads of Cordoba from the hands of a master of the six strings, an artist with capital letters and the composer of a whole soundtrack that has accompanied many of us for decades in our lives… the great Paco Ventura.